UK DELEGATIONS
Joining a BioPartner UK Delegation means your company attends as part of the UK Pavilion, a highly visible and recognisable brand that draws in business in the competitive global market. BioPartner UK Delegation companies receive benefits over and above those available at the event. These can include
Tradeshow Access Programme Grants
for eligible companies to offset the cost of exhibiting.
You don't have to be an exhibitor to join a UK delegation, but there are benefits in being part of the group. We can promote your company whilst you attend partnering meetings and presentations, join the UK Delegation to save money and increase your presence at the conference.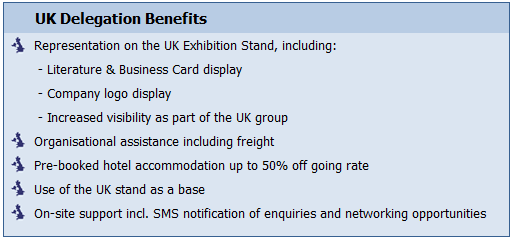 Find out which international conference is hosting the next UK Delegation.
See company lists and photographs from previous delegations

What our delegates say
Our delegations are designed to promote the business aims of our members - here are some of their comments:
"It's great to have a central meeting point and the added benefit of introductions from BioPartner to others in the network."
"It is always a busy event for us and having some help to allow two of us to attend is really great."
"Use of the BioPartner stand as a base was really helpful and also good for us to promote our company while we were attending all the partnering meetings"
"The UK delegations are very helpful and offer good support to the companies involved."
"Being part of the delegation raised our profile and was a key factor in making BioEurope a successful networking event for us."
"Being part of a group always improves the networking experience. The briefing on the Sunday was a great ice-breaker."
"The assistance I received in obtaining further savings and additional advantages was exceptional."
"The exhibition stand was a great focal point."
"BioPartner very effectively provide a base and invaluable support to companies."
"This is an excellent event and attending as part of the delegation adds real value..a 'must attend'."
"Provides a good base from which to work and also good to be part of the UK delegation."
"Extremely satisfied. We really appreciate the support..."
"Well organised and executed. Many valuable contacts made."
"...the only way a company of our size can gain access to a concentration of Biotech/Pharma companies, when they are in a mood to be approached."
"Attending as part of UK mission helped me to network, benefiting from the contacts made through other UK contacts."
"Many thanks and congratulations... administration was smooth and the additional networking was useful."
"As a result of this event we have added 10 new opportunities to our pipeline."
"Well organised and executed delegation... helped showcase the company's expertise and service."
"...the support we received helped us enormously by helping us to appear professional and making the whole attendance very easy."
"Networking outside the formal partnering system also very good and helped greatly by Biopartner and UKTI colleagues, and [the UK Exhibition Stand] as a meeting point."
For more information, about our next UK delegation, contact us - details below: