Aptus Clinical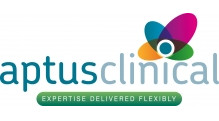 Aptus Clinical specialises in the provision of expert clinical research professionals. We partner with life science companies and academia in their quest to identify and develop valuable new medicines.
We have a passion for drug development and a belief in the power of collective knowledge. We understand the challenges our clients face in navigating the varied needs of payers, regulatory authorities and health economics and bring together individuals/teams with the experience, ethics and industry leading knowledge to help find solutions.
Our integrated network of clinical development professionals enables their pooled expertise to be shared to add real value & maximise the benefits to our clients.
Contact Aptus Clinical via their website
News archive
12/04/2021 Aptus Clinical announces 1st patient dosing in Artelo Bioscience study...more
06/04/2021 Find out more about Aptus Clinical's Site Monitoring and Oversight Service...more
13/08/2020 Aptus Clinical announces recruitment start for innovative COSMIC-19 study...more
31/07/2020 Read Aptus Clinical's white paper on development challenges in oncology...more
14/07/2020 Aptus Clinical working with the NHS through the ATTC Network...more
24/02/2020 Aptus Clinical and Alderley Park benefit from NPI Fund...more
13/12/2019 Aptus Clinical features in Pharmafile analysis on cannabinoid medicines...more
30/10/2019 Aptus Clinical selected as Clinical CRO by Artelo Biosciences...more
20/10/2019 Aptus Clinical launches iMATCH Clinical Data Management Service...more
18/09/2019 Aptus Clinical launches full Clinical Data Management Service...more
18/09/2019 Aptus Clinical mentioned in Financial Times article...more
05/07/2019 Aptus Clinical signs consulting contract with ValiRx plc...more
30/04/2019 Aptus Clinical selects Viedoc EDC system...more
19/03/2019 Aptus Clinical CEO explains why they are based at Alderley Park...more
16/01/2019 Aptus Clinical will continue post-Brexit to seamlessly conduct clinical trials...more
30/10/2018 Aptus Clinical receives £150k from NPIF-FW Capital Debt Finance...more
03/10/2018 Aptus Clinical appointed Clinical Services Partner by Cell & Gene Therapy Catapult (CGTC)...more
13/06/2018 Aptus Clinical enters into global partnership with Artelo Biosciences...more
17/04/2018 Aptus Clinical is part of Multi-Million Manchester Healthcare Investment...more
25/10/2016 Aptus Clinical joins the BioPartner programme...more